Resource Center/Article • 09/18/2018
What a Pain in the Accessorial: How to Best Evaluate and Anticipate the 2018 Surcharge Increases
To understand the impact of accessorial increases on their budgets, parcel shippers must understand market conditions and carrier charges
Originally published by PARCEL Industry on .
We live in a parcel world where accessorial increases can be announced at any time of the year and have huge impacts on budgets. Accessorial charges account for anywhere from five to 30% of our clients' total parcel spend, and this proportion is rising. On top of trying to accurately forecast resource needs due to volume growth and system changes within an organization, accessorial increases add a huge layer of complexity and unpredictability that can lead to multiplied costs overnight.
As anyone in the parcel industry knows, not all contracts are created equal. Some increases will have minimal impact if they are heavily discounted in your agreement, while the full brunt of other increases will need to be analyzed and understood. Shippers should empower themselves with knowledge of their specific contract and shipping characteristics to help predict accessorial impacts.
Context Is Everything
Carriers don't simply make up charges to spite their customers. Market conditions are dynamic, and carriers are adapting and developing, just like any other business. Understanding past behavior and surrounding circumstances is crucial to assessing and anticipating changes in parcel billing. Below is an example of the correlation between oil prices and FedEx fuel surcharge index changes.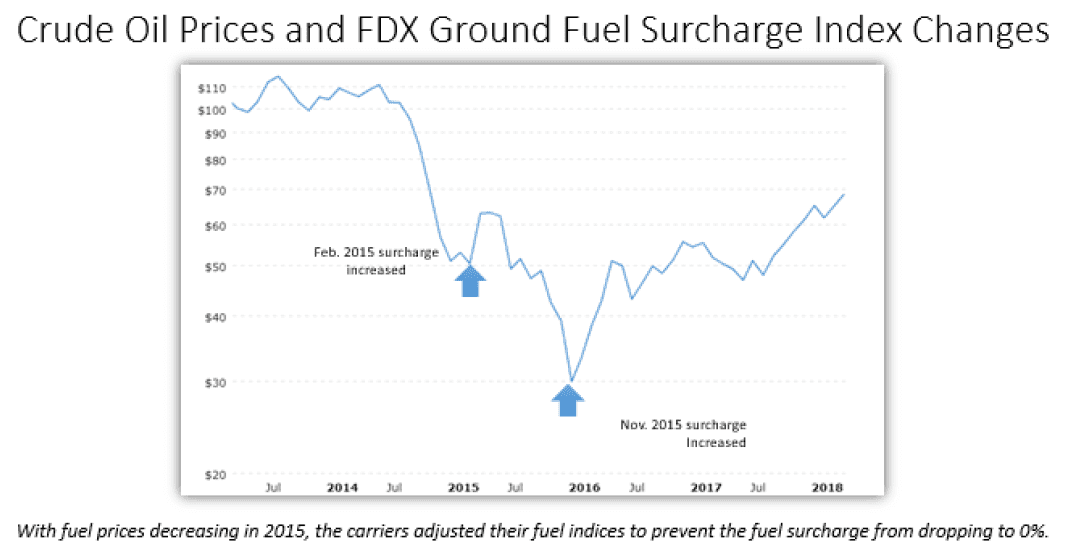 Unsurprisingly, both major carriers are focused on improving profitability and feel pressure to show ROI on the costly capital expenditures that come with updating massive infrastructure. Three primary issues being addressed by carriers are delivery density, oversized parcels, and peak season volume. If a package is contributing to one of those issues, expect surcharges to be leveraged to price more effectively and influence customer behavior.
Delivery Density
Packages per stop is a major metric for carriers, with the final mile often accounting for over 50% of delivery costs. Residential deliveries have far less density than commercial, which is why the Residential Surcharge exists. From 2017 to 2018, FedEx increased this surcharge by eight percent, and UPS increased it by about six percent.
The same story applies to Delivery Area Surcharges (DAS). ZIP Codes that are designated an "extended distance" from hubs are assessed DAS for the lack of density. FedEx increased this charge by about four percent YOY and UPS by about seven percent.
Predictions: Expect the trend to continue, with UPS likely increasing Residential Surcharges more than FedEx and vice versa for DAS. Both sets of surcharges will increase by at least four percent.
Unfavorable Parcels
This category of shipments is one of the most drastically confronted of late. UPS recently announced an additional $150 to Over Max packages that had already increased by over 200%, bringing the surcharge to a whopping $650 per occurrence. FedEx severely increased its Unauthorized Package Charge as well, pushing the price from $115 to $300 per occurrence.
Original Prediction: We wouldn't be surprised to see FedEx occurrences go up to $500+ and UPS raise Over Max to $700.
Pre-Publication Update: On August 3, FedEx announced an increase of the Ground Unauthorized Package Charge from $300 per package to $675 per package.
The next tier of charges for cumbersome parcels is Large Package Surcharge. UPS increased this by almost one-third last year to $90, leapfrogging FedEx's increase of Oversize to $80 per package. This more common surcharge will impact more shipments than the extreme case of over max/unauthorized packages.
Prediction: Both carriers will increase this price to over $100 next year, and UPS will have the higher surcharge.
In terms of percentage, Additional Handling received the second-largest UPS price bump. This year, Big Brown raised the charge by 75% to $19, while FedEx stayed closer to a standard increase of nine percent to $12.
Original Prediction: FedEx will increase this surcharge to just under $20. UPS will increase by about 10%.
Pre-Publication Update: On August 3, FedEx announced an increase for Additional Handling for packages over 70 pounds from $12 to $20.
No longer are dimensional divisors the new surcharge on the block. This is a particularly influential aspect of the service guide to keep an eye on.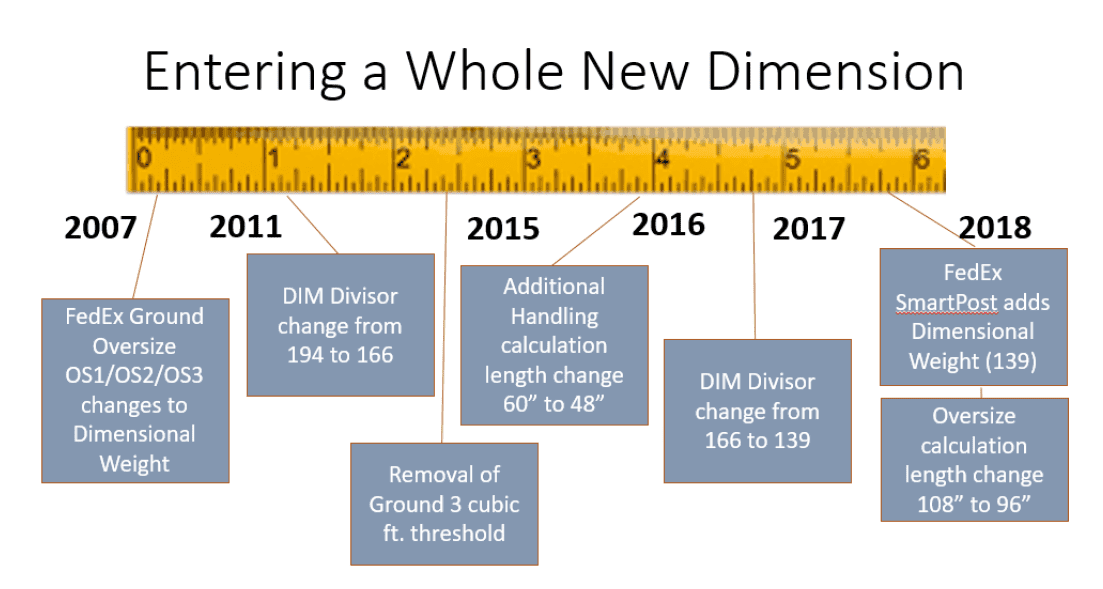 With the potential to increase the billed weight of an otherwise pedestrian package (sometimes to the point of incurring additional handling or worse), the regular reduction of dimensional divisors has a costly impact to shippers. FedEx now applies the 139 divisor across the board with the inclusion of SmartPost packages this year, which matches UPS. Additionally, there is no longer a threshold where the divisor is different or does not exist.
Prediction: Dimensional divisors will hold steady for the next year.
Any discussion of surcharges would be remiss without mentioning the latest creation by UPS, the Shipping Correction Charge (SCC). For shippers who manifest packages with incorrect dimensions or weight, this has the potential to spur change in that process. For invoices that average above five dollars per package in corrections, the new SCC will be applied as either one dollar per adjusted package or six percent of the total adjustments on the invoice. Resources on this topic have discussed SCC at length, but the gist is that shippers have a more vested interest in manifesting package weight and dimensions accurately.
Prediction: This charge will go up by about 10% next year, and it will likely be included with UPS peak increases in 2019.
Peak Season
Peak season surcharges are dependent on the time of shipment rather than physical characteristics and have a fun way of multiplying other hard-hitting surcharges. FedEx has adopted a "narrow-but-deep" strategy while UPS is going with a more "wide-but-shallow" approach in their peak season surcharges.
During the holiday shipping period of November 20, 2017–December 24, 2017, FedEx announced an increase for additional handling by three dollars per package, for oversize goods by $25 per package, and for unauthorized shipments by $300 per package.
UPS ruffled feathers with its peak season surcharges applying to all residential shipments, with additional fees for non-contiguous 48 state destinations. The large package, over maximum, and additional handling packages get special holiday treatment as well. Big Brown gave the courtesy of announcing the 2018 charges last year, so we won't take credit for predicting those.
Original Prediction: Similar to the advent of fuel surcharges, these peak season charges are here to stay. Expect FedEx to announce 2018 peak season surcharges soon, and be prepared for peak charges to increase into the foreseeable future.
Pre-Publication Update: On August 3, FedEx also released its peak season surcharges. These do not include a residential peak charge, but do include increases in Additional Handling, Ground Unauthorized, and Oversize.
The Bottom Line
Developing an intuition for accessorial increases starts with understanding the surcharges you are currently assessing. Have the ability to know your shipment profile in terms of volume and package characteristics so that impacts can be seen before the budget gets busted.
While predicting the future is a fool's errand, knowing the conditions that carriers are currently dealing with and how they've done so in the past is massively helpful in getting a feel for what might be changing in the future. Accessorial charges are used to price effectively as much as they are used to influence customer behavior.
If you're interested in learning more about this topic, attend Matt's
PARCEL Forum
session, "How to Predict & Analyze the Impact of Carrier Accessorial Increases" on September 26 at 9 AM.
Share this page: