Resource Center/Article • 05/10/2019
Leveraging Data to Properly Integrate a New DC
Adding a distribution center (DC) involves clear goals, data-driven planning, and continuous monitoring for cost-cutting and better service.
Your customers are expecting faster and faster delivery times each year, all while you are trying to cut costs, so network changes are often needed to increase shipping performance. Adding a distribution center (DC) will most likely decrease your average distance to your customers. However, to make adding a DC a profitable venture, you will need to leverage your data to properly integrate your new DC and monitor your new network.
Identifying Your Goals
Adding a DC to a network is a big decision with a lot of factors that need to be taken into account. Building a new DC is not necessarily going to reduce shipping costs in every case. To effectively implement a new DC, you need a clear understanding of the goals that are to be reached and how a new DC can help optimally achieve those goals. A significant amount of planning needs to be done on how to mitigate the cost impact, efficiently execute the plan, and monitor the DC's performance to ensure that it is running efficiently and improving the desired goals.
When adding a DC to a network, some common aims are to reduce time in transit and decrease shipping costs. While these two goals are not necessarily mutually exclusive, they do not always go hand in hand. Reducing time in transit is a natural goal among parcel shippers, due to consumers' high expectations for faster delivery times. However, reducing the time it takes to ship packages to a customer can be an expensive proposition. According to the GMT 2018 Benchmark Report, retailers see fast order fulfillment (two days or fewer) as the toughest challenge to stay competitive and have identified it as a primary strategic focus. Essentially, every business is looking to decrease costs, and having a DC that is closer to the customer base can help with achieving this goal.
After clear goals have been set, there needs to be planning on where the most optimal origin for the new DC is. The following planning steps should be taken to enact the plan, and the new network's performance must then be monitored.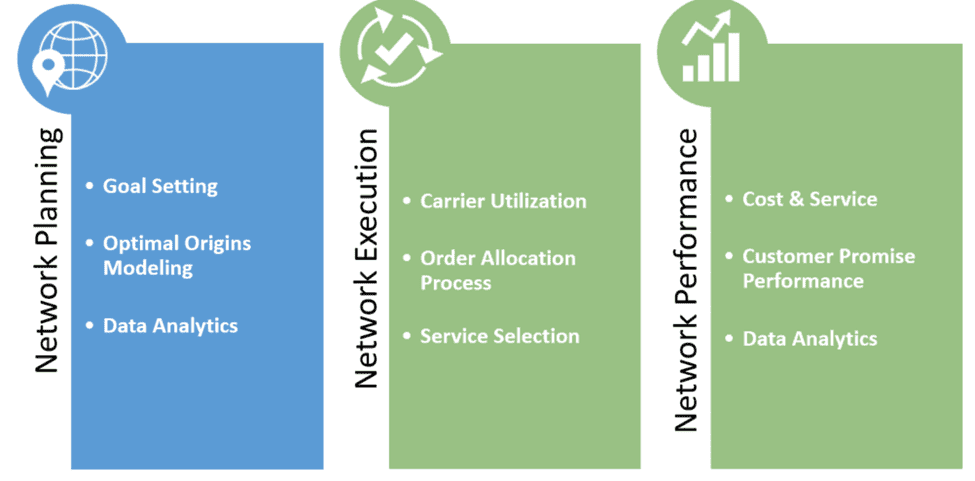 Leveraging Data for Dynamic Modeling
To make adding a new DC a profitable venture, several considerations need to be made in the planning phase. When choosing an area to locate a new DC, real estate, labor, and operational costs need to be considered to ensure that the new DC will offset the cost to get it running by providing increased efficiency and reduced transit times. Additionally, the relative location of your customer base is a large factor due to the goal of reaching the most customers in the fewest number of days. An effective way of testing how much a location would reduce your transit time and cost would be through implementing data analytics. Re-zoning and re-rating can be done to determine the cost difference of shipping with and without your proposed DC. Considerations should be focused on the best implementation strategy for carriers and selecting the optimal service levels that the DC will provide to meet the customer demand.
The data analytics portion of planning requires a significant amount of processing and data cleansing. With clean data and the ability to process millions of shipments, zones need to be calculated for multiple candidate locations for comparison. After re-zoning and re-rating have been done, to compare the potential new DC locations, the data needs to be validated. Validation that packages have been re-zoned and re-rated properly for the candidate locations is important to make certain that the answer the data is pointing to is accurate. There will likely be ties in transportation costs between current DCs and the selected candidate DCs. Where these ties occur, operational costs can be weighed to break them and allow for some flexibility in the network.
Considerations for the Execution Phase
After sufficient analysis and planning has been done, it is time for you to move on to the execution phase. No matter how good a plan is, if it is not executed properly, it is doomed to fail. Important things to consider at this stage include what carriers to utilize with the new DC, how to allocate the order process, and how to select the right service.
The final step in the cycle is to monitor how well your plan is going. Things could start off going according to plan but spiral out of control given some time. This is where data analytics comes back into play. Monitoring if the new DC is improving efficiency and reducing cost will help to ensure that the DC is still progressing towards the original goals. Some specific things to monitor are the cost impact of the additional DC and how well it is staying within the budget that was created in the planning phase. Also, the DC's service levels and how effective the DC is at delivering the promised performance to its customers should be monitored. Rate shopping is a powerful tool to help you drive towards the optimal shipment route and rate for shipments, and it is a way to ensure that a DC is continuously improving. Another consideration should be how well the vendors supplying the DC's needs are complying with the shipping standards that were set up.
Substantial planning regarding the best location for a DC can contribute to cost cutting and improving service levels. However, the plan has to be properly executed and the resulting network continuously monitored to achieve high performance and ensure that the original goals are met.