Resource Center/Article • 02/01/2018
Keeping Up With Amazon: Keys to Evaluating a Fast Shipping Model
Benchmark results: retailers adapt to fast shipping expectations with options like store locations, zone skipping, and regional carriers.
As a result of the ongoing rise in e-commerce and the growth of Amazon Prime (which has an estimated
80 million US members
), today's online shoppers have very different expectations when it comes to fast and free shipping than they did just a few years ago. In order to compete, many retailers are considering adopting a similar strategy to fulfill orders much more quickly to meet those consumer expectations. However, it is challenging for transportation executives to manage the competing objectives of keeping costs down while pursuing a significantly faster fulfillment network. According to Green Mountain Technology's 2017 Benchmark Report, "Fast order fulfillment (within 2 days)" was identified as both the top primary strategy focus and the top competitive challenge among transportations executives for the coming year.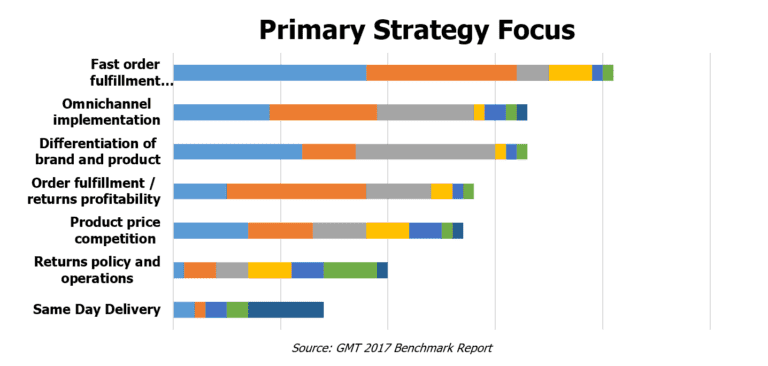 In order to establish a network that supports two-day shipping, there are a number of options to consider when determining a solution that will be the most cost effective for your brand. Amazon's method is simple; it's all about location. Forty-four percent of the population lives within 20 miles of an Amazon fulfillment center (
Business Insider
), and that number will continue to rise as Amazon continues to open fulfillment locations in record numbers.
Other retailers may not have the massive distribution profile of Amazon, but many do have existing store locations that can be utilized in a similar manner. Adding the ability to ship from store to a distribution network can significantly reduce transit times to the end customer without the need to add additional infrastructure. Similarly, offering a "buy online, pick up in-store" option can reduce transit times while giving customers the flexibility they desire and even reduce shipping costs by eliminating the costly last-mile portion of the delivery. Online retailers that do not have existing store locations have other options to reach their customers faster such as utilizing zone skipping, adding regional carriers to their network, or opening additional distribution centers in strategic locations to maximize the transit benefit.
In order to implement any of these strategies successfully, shippers must perform detailed analyses for these potential solutions and prepare for challenges that are introduced when making changes required to achieve a faster network. Access to good data and an understanding of the many complexities is crucial to making the most cost effective choice.
When determining the cost to upgrade shipments to an express service, accessorial fees can play a major role. Shippers often have different accessorial discounts and dimensional factors for express and ground services which could drive costs higher than expected if not taken into consideration when evaluating the cost.
If a shipper is considering adding additional distribution locations or utilizing store locations to fulfill orders, a detailed transit analysis based on the shipper's specific profile is essential in determining the optimal place to add these locations to improve transit times. Store locations must also be evaluated with space and staffing considerations in mind when establishing how the pick, pack, and ship process will be executed at the store level. Among respondents to the GMT Benchmark Report, while we did see a rise in the ability to ship from store year-over-year, we have not seen a rise in the overall volume being shipped from store locations which remained at nine percent of e-commerce volume from 2016 to 2017. This could be attributed in part to the fact that retailers are finding it more expensive or difficult to fulfill inventory across additional locations when put into practice.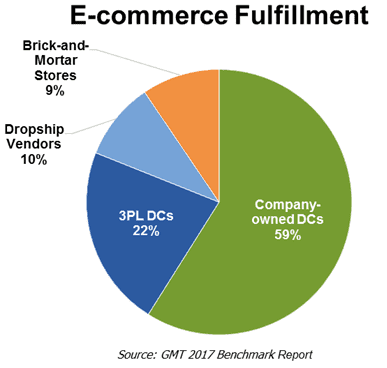 A shipper's order management system must also have the ability to rate shop while considering both transit and cost, and this logic becomes more complex with the addition of potential sourcing locations. Changes to these systems can be costly and take time, and should be considered up front to avoid unwanted surprises down the road.
Once a shipper has identified some of these areas of opportunity, they can approach carrier contract negotiations with the information necessary to target reducing costs in areas of their contract that will benefit the implementation of a two-day network. Additionally, solutions such as regional carriers can be analyzed with an understanding of where they can fill any potential transit gaps at a lower cost than a national carrier.
Adding these complexities to a shipper's network, while often essential to achieving two-day fulfillment, increases the chance for sub-optimization. Inventory management becomes much more complex when introducing additional carriers and sourcing locations to a network. An increase in "out of market" shipping or an increase in the numbers of split orders can create higher overall costs and negate the intended benefits of these solutions.
As the definition of "fast shipping" continues to get faster and retailers struggle to keep up with the pace Amazon has set, performing detailed cost and transit analyses for a variety of solutions and being well prepared for the potential challenges can help retailers achieve the goal of a faster network while keeping cost increases at a minimum.