Resource Center/Article • 11/09/2018
Getting Ready for 2019 GRI: How to Mitigate Cost Increases
Learn how parcel shippers are seeking to mitigate costs and improve network efficiencies for the upcoming year.
This is the time of year that shippers are often bracing for the blow of annual rate increases. Usually in the late third or early fourth quarter, parcel carriers will announce their annual rate and surcharge increases. With the growth in e-commerce, parcel is becoming a larger expenditure for companies. According to GMT's 2018 Benchmark Report, 87% of shippers expect 2018 parcel rates to increase at a similar or higher pace as total transport costs year-over-year. These annual increases are a significant part of a company's budget; however, there are ways to mitigate the effects. Prior to planning any mitigation efforts, shippers must understand the background and make-up of the rate increases.
The Nuts and Bolts of Rate Increases
Rate increases come in two forms: the General Rate Increase (GRI) and surcharge rate increases. The GRI is the average rate increase versus the previous year. People often think that each rate cell (zone/ weight combination) in a rate card is increased by the same amount specified by the carrier. However, we typically see each rate cell increase and/or decrease year-over-year, but the average increase should not exceed the increase announced by the carrier. For example, in 2018, a zone 2, one-pound UPS package increased by 3.4% ($7.32 to $7.57), but a zone 3, seven-pound package increased by six percent ($9.82 to $10.41). Shippers must also be mindful that each mode will not experience the same increase per the announced GRI. For example, in 2018, all FedEx Express, on average, increased by the announced GRI of 4.9%. Each mode under Express, however, did not increase by that same amount. As with the different rate cells, each mode increases and/or decreases by different amounts, but the average did not exceed the announced GRI.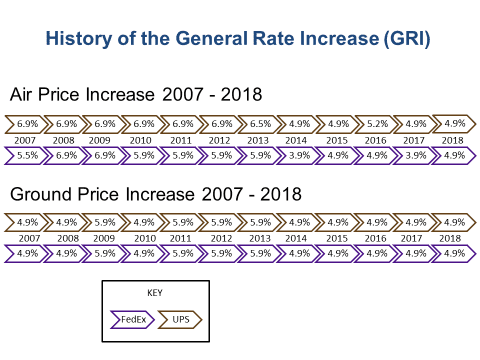 From 2007 to 2018, both UPS and FedEx had varying rate increases, but the Ground increases from 2014-2017 have remained constant at 4.9%. In 2018, both UPS and FedEx increased their Ground and Air rates by 4.9%. As previously mentioned, these increases only affected the base freight rates. Surcharges, however, increase at different rates, which typically exceed the GRI. For example, the 2017 Additional Handling surcharge was $10.85, but that cost increased in 2018 to $12.00. This is a 10.6% increase. Furthermore, while GRIs occur once per year, surcharges can change multiple times throughout the year. For example, UPS's Large Package Surcharge increased from $70 to $80 in 2018, but UPS announced that this same surcharge would increase an additional $10 for residential shipments on July 8, 2018.
How to Mitigate Cost Increases
Shippers should always plan for annual cost increases, but there are ways to mitigate these effects. Let's categorize the price of packages into five elements: contract, service/mode, zone, weight, and accessorial surcharges. Shippers should evaluate optimization opportunities with these five elements:
Contract: Have you optimized cost between your carriers?
If shippers have contracts with multiple carriers, they should look to optimize the costs between the carriers. This strategy, however, needs to be carefully analyzed. A carrier optimization would need to consider potential changes in discounts that are based on spend, changes in time-in-transit, and minimum commitment languages. A solid transportation management system (TMS) can assist in controlling this process.
Service/Mode: Are you utilizing the least expensive services/modes?
The use of Air/Express shipments may not always be justified, and opportunities may exist to utilize a less expensive service while meeting the same delivery commitments. For example, shipping UPS 3 Day Select packages to destinations that are within a three-day time-in-transit Ground territory can be shipped via a Ground service for less cost. The packages will still arrive in the same amount of time.
FedEx shippers sending packages to residential addresses should be wary when utilizing Ground Services. Either with or without contractual rates, it is usually cheaper for shippers to use FedEx's Home Delivery versus Ground. All FedEx Home Delivery packages have an additional residential delivery surcharge. This surcharge coupled with the service rate, however, is less expensive than utilizing FedEx Ground with a Ground residential delivery surcharge.
Zone: Are you shipping from the closest locations?
A shipment's zone is determined by the origin and destination information of a package. For many carriers, the continental US zones range between 2 and 8, but it may vary for shipments outside of the continental US. Typically, a lower zone indicates the closeness of the destination to the origin. Furthermore, packages with lower zones cost less. For this reason, shippers should look to optimize (lower) their zone by shipping from locations that are closer to their customers. Shippers must continue to evaluate the actual origin of their shipments, as they may find that they are shipping packages from non-optimal locations for various reasons. Some of those reasons may be legitimate (such as inventory strategies, etc.), but there may be some opportunity to ship from more optimal locations. These strategies include ship-from-store, building additional distribution centers, etc.
Weight: Are you paying attention to dimensions?
Heavier packages cost more to ship. The weight used to price packages can come from the actual weight of the packages or from the dimensions. Carriers will utilize the greater of package's actual weight or the dimensional weight. Dimensional weight is determined by calculating a package's volume (length x width x height), then taking that volume and dividing it by a predetermined dimensional divisor. The calculated weight is then rounded up to the nearest whole number. For example, the dimensional weight of a 10x10x10 package that weighs one pound and has a dimensional divisor of 139 is 7.2 pounds, or eight pounds after rounding. In order to reduce the effects of dimensional weight increases, shippers need to evaluate and validate the dimensions of both their cartons and their stock keeping units (SKUs). They should understand the usage of certain box sizes and make changes where necessary. Doing this can prevent utilizing cartons that are too big with a great deal of air space. This extra, unused air space causes cartons to have dimensional weight adjustments and can cause the price of shipping to increase. Regarding product size, inaccurate product dimensions often produce inaccurate carton sizes. Again, this can lead to cost increases.
Shippers should evaluate opportunities to consolidate shipments and orders. While this will increase the billable weight, it is often less expensive to ship one package at a heavier weight than multiple at lower weights.
Many carriers offer services to consolidate shipments to be delivered to a common location, such as lockers, pharmacies, etc. Shippers utilizing these services can reduce their Residential Delivery surcharge and downgrade their Residential Delivery Area surcharges to Commercial Delivery Area surcharges.
Penalty surcharges such Address Correction and Invalid Account surcharges should be closely monitored. Shippers must evaluate where these are occurring and should address them immediately.
Look for rate increase announcements in the coming days from carriers. Having visibility to the cost drivers in your network will allow you to begin looking for ways to mitigate the rate increases you will be facing in the days to come.
Share this page: