Resource Center/Article • 12/07/2017
Building a Better Brand Strategy
Discover how logistics, free shipping, and omnichannel capabilities bolster brand positioning and customer influence.
What exactly is brand strategy? Essentially, this is a strategy to distinguish a company or products from its competitors. The aim is to create a lasting (positive) impression in the minds of customers. We don't have to venture far from the original meaning of "brand" related to marking permanently with a hot iron to understand this concept of distinguishing a product from the herd.
The concept of branding transcends any one department. When it comes to e-commerce, the logistics portion of an operation can have the largest direct influence on the customer purchase experience and, therefore, brand strategy. Doubters of this claim can simply be asked to list one thing about what it means to be an Amazon Prime subscriber. Invariably, "two-day shipping" will tumble from their lips before they can catch themselves. This is as much a brand as it is a logistics strategy, and a well-executed one can create a powerful impression.
Logistics' Role in Building Brands
The focus of customer-centric shippers is the intersection of brand and logistics strategy. In Green Mountain Technology's 2017 Benchmark Report, 2/3 of shippers state their brand position was premium quality or superior service with differentiated customer experience. When polled about the biggest competitive challenge being faced by shippers, the majority of Benchmark respondents cited fast order fulfillment. As seen in the figure below, closely following this top challenge was differentiation of brand and product. This is no coincidence as shippers face an environment of formidable competition amid eroding brand potency and rising consumer expectations.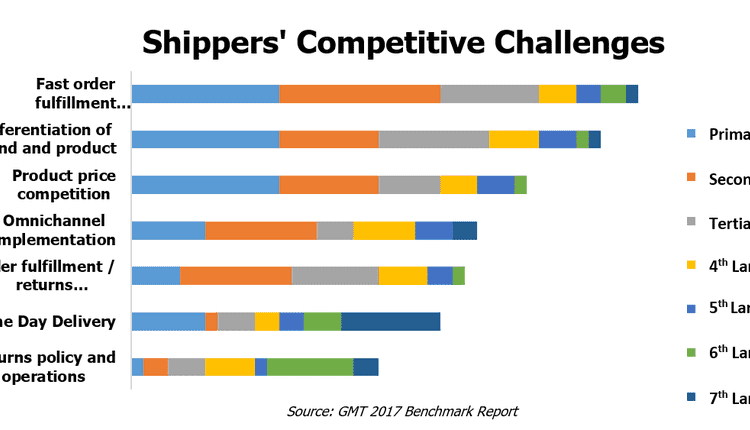 So how can logistics operations be built into brand strategy? The easy answer is to simply expedite as many shipments to the fastest transit that is financially bearable. Indeed, many retailers are quick to hastily deploy one- to two-day shipping services with a hair-on-fire sense of urgency. The 2017 GMT Benchmark Report indicated a sizable shift in expected service mix volume away from deferred (four to seven days) delivery and toward express (one to two days) and same-day delivery. Specifically, 50% of respondents reported they expect to increase their use of same-day delivery (up 10% YOY).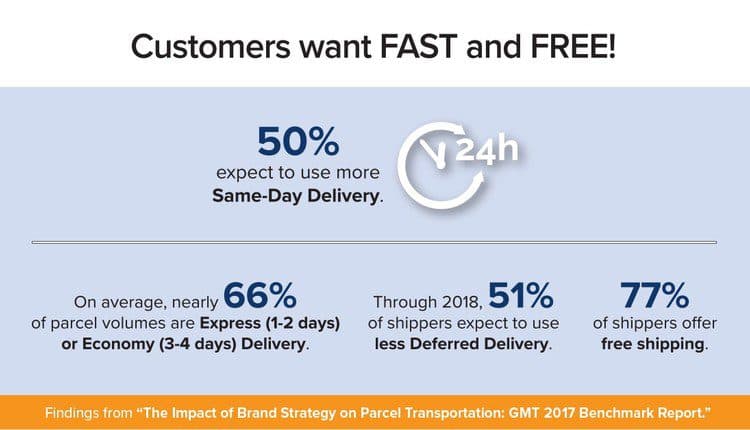 While this trend is unquestionably growing, it is costly to implement and doesn't yet show substantial ROI in terms of customer delight. Deloitte's 2016 Holiday Survey revealed that not only are customers' definitions of "fast" shipping limited to two days or less, but that willingness to pay decreases rapidly with each additional service day. Of the mere 68% who are willing to pay anything for same-day service, the amount averages to less than $5. This figure makes its way down to $0.50 by the time we get to three-day shipping, with 90% of customers willing to pay nothing at all for the service. It doesn't take much logistics expertise to know that even the most efficient operations cannot be profitable at that price point. While playing to the speed expectations of customers is essential, this is a brutally difficult game to operate.
Free Shipping > Fast Shipping
Free shipping has become a universal expectation, and the good news is that this factor is more important than speed of service. Customers are much more likely to choose a free, economy (five to seven days) delivery option over a paid, expedited one. One of the key takeaways from GMT's Benchmark Report was that 90% of retailers offered free shipping through either a minimum order threshold, promotion, or membership.
Studies like the GMT Benchmark or Deloitte Holiday Survey show that free shipping is no longer considered a delighter. This refers to the Kano Model, in which a delighter is a quality that is not necessarily expected and therefore provides satisfaction when fulfilled but does not cause dissatisfaction when absent, such as drone delivery. Instead, free shipping has transitioned toward a baseline quality, similar to goods arriving undamaged. A customer does not explicitly state this desire because it is taken for granted, but its absence would result in an unsatisfactory experience (no matter how quickly it arrived).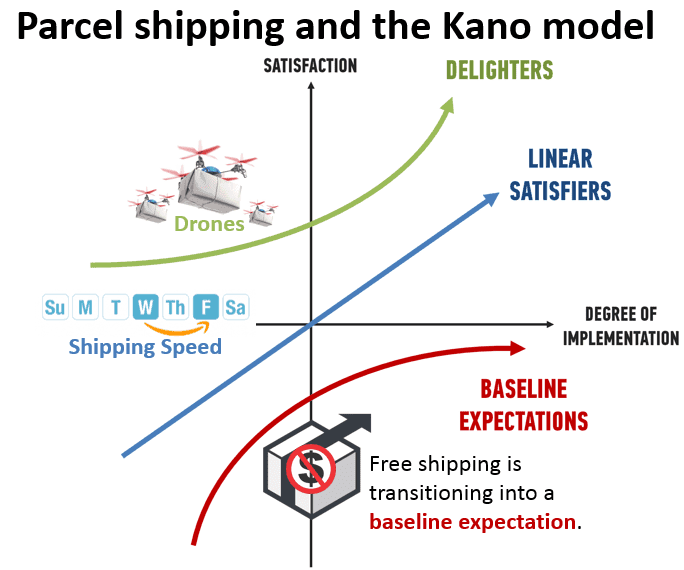 The concept of fast shipping can be seen as more of a linear satisfier. Trying to make a play solely on faster shipping can be a painful process, as it has a high cost for incremental gain of brand positioning. Greater gains may be found by simply supplying a free option and investing in other brand-enhancing logistics features like package tracking, returns, and ship to store.
The Competitive Advantage of Omnichannel Strategies
Another huge aspect of a brand strategy lies in omnichannel capabilities. Characteristics like ship and return-to-store are growing in customer importance and therefore brand influence. This year's UPS Pulse of the Online Shopper reports that 50% of customers have shipped to store for pickup and that of those, 44% made additional purchases while in the store.
Additionally, omnichannel capabilities will enhance shipping speed by having a more distributed and flexible network that can get packages to customers more efficiently. According to GMT's Benchmark Report, 54% of brick-and-mortar retailers are able to at least partially ship e-commerce orders from store. On average, 41% of retailers' stores have the capability. Another 30% plan to accommodate this in the future. All in all, properly aligning a few key logistics features with consumer expectations will drive your brand strategy all the way to your customer's front door. The first step is awareness of what is going on in the competitive environment. Identifying the value of shipment time versus cost and understanding the dynamic nature of customer satisfaction are key to delivering the experience your brand has promised. Just as the lines have been blurred between channels of commerce (in-store, online, mobile, etc.) so too have the lines between logistics and marketing responsibilities in an organization. By catering to shopper preferences via competitive shipping options and pricing, a firm's brand can shine.