Resource Center/Article • 01/11/2021
5 E-Commerce Return Policies We Love & Why You Should, Too
A return strategy is paramount when record sales welcome record returns. So, we've collected five great return policy examples to follow!
Good return policies are essential to online stores, especially when so many people are shopping online due to COVID-19. With E-Commerce shopping hitting record highs, record returns are likely not far behind. Why? Without being able to examine the product in their own hands, online consumers often purchase a variety of products (from sizes, colors, and shapes) with intentions to return what doesn't fit, literally and figuratively.
In fact,
RetailWire
estimates that 15-30% of all E-Commerce purchases are returned, thus highlighting a store's need for a strong and thoughtful returns strategy. These policies can even be used to maintain and attract customers, and alternatively, an unclear or troublesome policy could possibly risk losing customers. According to
AllBusiness
, "When a group of consumers were interviewed in a recent Harris Poll, as many as 91 percent responded that a store's return policy was critical when making a purchasing decision." Consumers need to know that there are options beyond just taking the financial loss if they are unhappy with their purchase. Just remember that return policies can directly affect consumers and businesses. If a company has a difficult return policy, it adds stress to both the consumer and the business by way of a negative customer experience. In this post, we'll dig into five examples of great return policies, as well as why we love them so much.
5 E-Commerce Return Policies to Follow
1. IKEA: Simple and Clear Language
It's OK to change your mind!

Effective October 22, 2020

If you're not totally satisfied with your IKEA purchase you can return new and unopened products within 365 days, together with your proof of purchase, for a full refund. You may also return open products within 180 days, with your proof of purchase, for a full refund.

Sorry, we do not accept returns on plants, cut fabric, custom countertops and as-is products. We are unable to refund or exchange your items if your merchandise is found to be modified from its original form when purchased, dirty, stained, or damaged.
IKEA's return policy is pretty straightforward, in fact a consumer may know everything they need to know in the first 2 paragraphs. Like IKEA's, your return policy should use language that your consumers will easily and quickly understand, without creating feelings of stress or overwhelming the consumer. It's encouraged to be direct, as your policy needs to tell consumers exactly what can or cannot be returned, as well as any physical conditions a product must meet in order to be returned. Is there a timeframe for making a return? Will the consumer be offered a refund, in-store credit, or both? Don't be afraid to explain your reasoning. For example, if there are things that can never be returned say so and provide some reasoning to lessen confusion. To make returns for customers as easy and stress free as possible, use bullet points (as IKEA does with "additional information") or numbered steps from start to finish on how to make returns for your company. Clear and easy to find return policies keep customers informed and likely to continue supporting your business. Making your policies clear from the beginning and easy to find for customers can make or break your brand.
2. ASOS: Free (and Hassle-Free) Returns
An easy way to win customers is by offering free returns, also known as paying for your customer's returns. A company who does a great job of positioning this returns strategy as hassle-free for the consumer is clothing brand, ASOS.
Free returns are a particularly strong strategy for an E-Commerce clothing brand, as consumers don't have the benefit of trying clothes on in-store. ASOS is known for including pre-paid postage stamps in their shipped items to make their customers lives that much easier. However, they are transitioning to Online Returns, where they make it easy for customers to create shipping labels dynamically via their website's My Account area, while also directing their customers to the nearest drop-off location. Little things like that make a huge impact on your customers and build positive feelings toward your brand. Understandably, if you can not take on the cost to pay for return shipping, make that completely clear in your policy to prevent any misunderstanding. It's really all about communicating with your customers and keeping them in the know.
3. ZAPPOS: Fast Reimbursement Options
Zappos notably offers a variety of fast reimbursement options. Whether you elect for the traditional debit/credit card refund or item exchange, Zappos definitely wants you to have your money back as soon as possible. When it comes to exchanges, they'll transfer your refund to a gift card so that they can apply the balance immediately to your new item. The brand also created a VIP program offering a full refund within 24 hours of UPS's scan of your return – and hey, maybe you'll buy something else right away then, too?!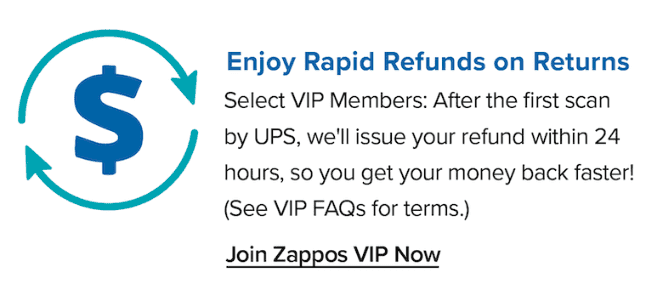 Returns should be paid in full because that is the whole point of return policies. Customers want to know that their money can be safely returned to them if for some reason they decide they no longer want the item. By offering fast and full refunds, you're building a positive customer relationship that yields both trust and brand loyalty. Above all else, never hold up your customer's refund if they meet all the terms of your return policy. Doing so could be detrimental to your customer relationships, as well as ultimately your brand.
4. Nordstrom: Extended Return Windows
We handle returns on a case-by-case basis with the ultimate goal of making our customers happy. We stand behind our goods and services, and want customers to be satisfied with them. We'll always do our best to take care of customers—our philosophy is to deal with them fairly and reasonably. We have long believed that when we treat our customers fairly, they in turn are fair with us. We apply refunds to the tender with which returned items were purchased. If we choose to provide a refund and no record of sale is available, we'll ask for personal identification and a refund will be provided at the current price on a Nordstrom Gift Card.
Nordstrom famously has one of the most flexible return policies, placing no limit on when items may be returned. In fact, they've made that position part of their brand differentiation statement, and it's all founded on the hard-to-not-love principle of doing what's right by your customers.
30 days is a typical return window; however, many brands like
IKEA
,
REI
, and
Target
(at least when it comes to Target Owned branded items) offer customers up to a year to make a return. Longer return windows give customers time to sit with their purchases and ensure they are happy, this strategy is particularly beneficial to E-Commerce customers that have to wait for the order to arrive.
5. Athleta: Show Your Customer Commitment
Few things in life are perfect, except maybe Athleta's Give-It-A-Workout returns guarantee, wherein Athleta consumers are encouraged to workout in their purchases to ensure it meets their physical expectations. While designed specifically with consumers shopping for clothing online in mind, there's a notable takeaway for brands of all kind: treat your customer well.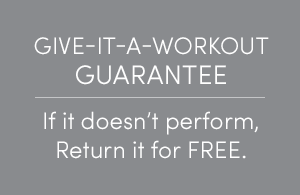 A successful return policy will help your customer as much as your brand, take ownership of the partnership that exists between you and your customer by speaking directly to negative experiences. Remember that if a customer walks away feeling as though they were misled or forced to keep a product they're unhappy with, they're unlikely to return to your store. And while not every brand is a good fit for every consumer, ask yourself whether or not your return policy encourages repeat customers. If a mistake is made, or a customer has a less than ideal store interaction, a return transaction is often your final opportunity to maintain and keep that customer or send them packing.
A Great or Best-in-Class Return Policy
Understanding these five examples of great return policies – and knowing the benefits of implementing them in your business – can help avoid negative customer interactions and elevate your brand. A clear and sincere return policy is an important component of your business, but also your customer retention strategy. Customers are most likely to buy from – and stay loyal to – retailers with generous and flexible return policies, opposed to those with strict and uncompromising policies. Remember that a great return policy is easy to understand and clear in setting expectations or conditions, is designed to make the process as convenient to consumers as possible, and also builds trust over suspicion. Lastly, keep in mind that an informed customer is a good customer. A best-in-class return policy instructs customers how to best follow your policy in order to make returns convenient for you, too, while simultaneously communicating something great about your brand.
Share this page: