Resource Center/Article • 09/28/2020
3 Parcel Strategies that Major Retailers are Leveraging to Mitigate Carrier Capacity Constraints
Discover how leading brands in the COVID-19 impacted parcel industry tackle carrier capacity challenges to maintain customer commitment.
When you compound already-high pandemic volumes with historically-high peak season volumes, it's no wonder the industry is bracing for carrier capacity challenges and scrambling to prepare for a record breaking peak season.
Let's just put this in perspective here: Online sales in August increased 42% YOY, generating nearly $500 billion in online sales in the first eight months of 2020,
according to Adobe
. Adobe attributes an extra $107 billion in online sales to the pandemic. Additionally, Deloitte expects
online holiday sales to increase 25-35%
from November through the end of the year.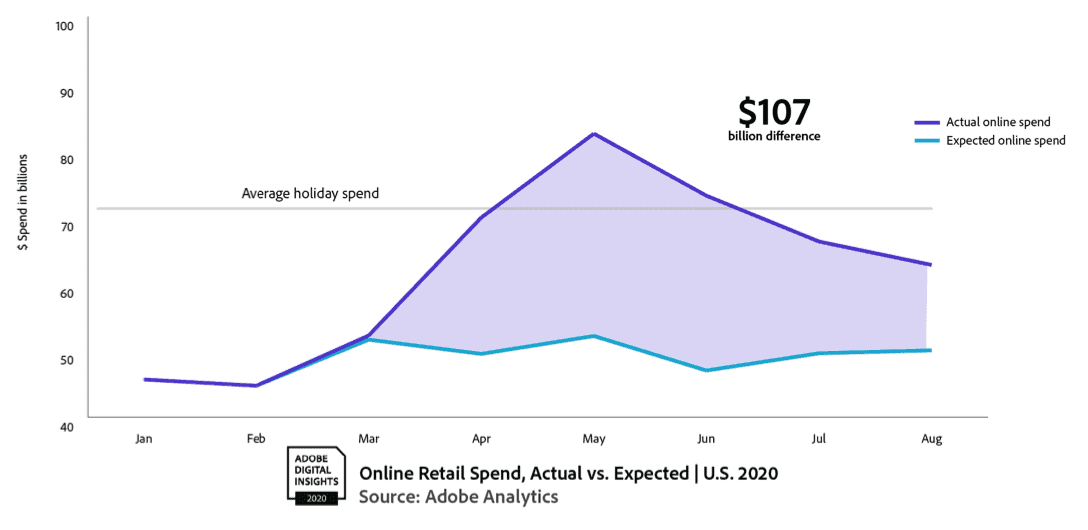 FedEx is spending $200M more on capital projects this year to manage the increase in business, and UPS's Carol Tomé has expressed a focus on "better, not bigger." Both of the Big 2 are racing to ensure their networks can handle this year's unpreceded parcel volume growth.
Furthermore, this trend will stick. FedEx has expedited their growth projections, anticipating by 2023 an average of 100M parcels will be shipped daily in the U.S. across all carriers. Previously that milestone was expected around 2026.
So while carriers are in high growth mode and making capital investments, what are shippers doing to prepare on the eve of the largest peak season ever? At GMT, we've observed three primary strategies our customers are leveraging as they have navigated this new territory.
1. A multi-carrier approach.
Flexibility in your carrier network is vital. Exploring regionals and alternative carriers can be a powerful way to diversify your carrier partners to mitigate risk.
Even prior to the pandemic, when we polled shippers in our
Annual Benchmark Report
, 91% said they were planning to either maintain or increase their use of regional carriers.
A few of the most established regionals include: Lasership (who recently
expanded it's service area
), OnTrac, UDS, and LSO, among others. New entrants to the market include OneLiveX, Need it Now Delivers, and PCF. (You can sign up for our monthly newsletter at the bottom of this article to see more details on these newer entrants in our new carrier spotlight.)
This transition isn't a simple one: maintaining your required volume thresholds with the Big 2 and intelligently shifting volume to additional carriers requires a detailed knowledge of cities with your highest order volume and zips that your regional/alternative partners can serve in a faster and/or cheaper manner. Big data is king in this scenario. To effectively leverage these partners, you need detailed, historical data at your fingertips to make intelligent and agile decisions.
2. Eliminate the last mile with in-store or curbside pickup.
Even your local mom-and-pop shops are making this strategy work! In fact, the neighborhood shops that survived the early days of the pandemic almost certainly did curbside, even if it was as simple as taking an order over the phone and running it out to your car. For consumers, this convenience is starting to tip the scale and change habits. During the pandemic, Walmart has seen 4x more customers try curbside pickup for the first time, with particularly strong growth among shoppers over 50 (
Source
).
There's also a big upside for large brands when implemented correctly. Target's Q2 sales skyrocketed due to its utilization of curbside (734% increase YOY) and alternative carrier, Shipt (350% increase YOY) (
Source
). Overall, buy online pickup in store usage (BOPIS) continues to surge with a growth of 259% YOY, according to Adobe Analytics.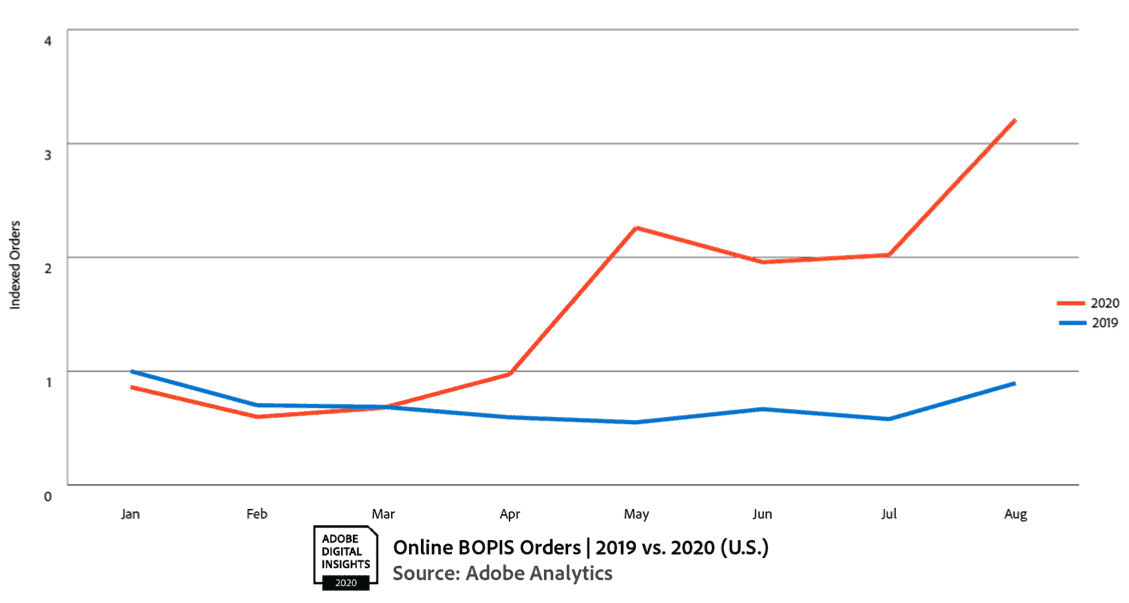 Omnichannel strategies are absolutely required for the modern shipper to succeed in this new environment. The ability to combine and leverage Big Data to optimize activities between your online orders, distribution centers and store locations is now an essential and basic element in this e-comm boom.
The greatest challenge with in-store or curbside pickup is maintaining accurate inventory visibility. Additionally, a robust point-of-sales system and flexible labor are keys to managing this strategy well.
3. Spread out promotional advertising to decrease average daily volume of orders.
It's time to "flatten the curve" of shipping during peak season. As shippers, one of the easiest things you can do is start your holiday sales and promotions early to smooth out the demand cycle.
Consider promoting holiday sales and promotions well before Thanksgiving, being especially careful during traditional peak schedules, such as Black Friday, not to overload deals on all products during the same day or week. Focus on different daily product specials and smooth out the overall demand across multiple days to decrease average volume. While this strategy certainly requires cross departmental collaboration (marketing and logistics teams need to work closely to execute on shared goals), this is an effective approach to take back some control over when and how your customers receive their orders.
We should mention, this is not a new strategy. It's one that major retailers have been increasingly implementing over the last few years during peak, but this is the year to take it seriously. Many of our major retail customers are fully embracing this strategy and have even asked GMT to spread the word. And we agree that this is one way retailers can collectively help each other (and themselves)!
The pandemic has pushed our world into an e-commerce explosion. No doubt, consumers' preference for convenience and safety will remain elevated long after the risk of the coronavirus is gone. And we recognize that these strategies are not a quick overnight fix that would have worked in year's past. Unfortunately, there is no quick fix for success in this changed hyper-e-commerce-driven parcel environment. Instead, we must make sustainable investments and work diligently to reduce all possible inefficiencies, so when challenges arise, you can make fast, data-driven, decisions to stay ahead of the curve (… or flatten it, as 2020 as taught us).
Share this page: